Animal Hospital of Sebastopol
Our Veterinary Team
Our team is here to help. At Animal Hospital of Sebastopol, we treat you and your pets like our family.
Animal Hospital of Sebastopol
Dr. Nicole Canon, DVM, MPVM
Practice Owner – Team Member since February 2002
Dr. Nicole Canon is an alumna of both UC Davis and Colorado State University. She completed her undergraduate degree and received her Master's degree in Preventive Veterinary Medicine at UC Davis and achieved her Veterinary degree in Colorado. She also lived in Springfield, VA while completing an extensive internship that covered small animal emergencies, internal medicine, surgery, dermatology, and radiation oncology. Finally, she completed coursework in veterinary acupuncture. She came to work at the Animal Hospital of Sebastopol in 2002 and liked it so much, that she bought it in 2007. For fun, Dr. Nicole spends her time outside skiing, kayaking, and stand-up paddle boarding. She loves sharing her home with her husband, three cats, and a dog.
Charlotte Rockwood, DVM
Veterinarian, Team Member since October 2010
Dr. Charlotte Rockwood is a Sebastopol native. After graduating from veterinary school at the University of California, Davis, she completed a year-long intensive internship is southern California. During this time, she received additional training in internal medicine, surgery, emergency medicine, radiology and oncology. Dr. Charlotte jointed the Animal Hospital of Sebastopol in 2010. She enjoys being a pet's primary care doctor, and focuses on preventative care with a special interest in geriatric care. Dr. Charlotte lives with her husband and two young children, their bossy terrier Iris, and cat Freya. When she has free time, Dr. Charlotte enjoys being outdoors, especially hiking and gardening, reading and cooking.
Gwen Miller, DVM
Veterinarian – Team Member since June 2012
Dr. Gwen Miller is originally from the San Diego area. She moved to Northern California to attend college, and decided it is the place to be! She completed both undergraduate and veterinary degrees at UC Davis and then relocated to the North Bay to pursue an internship at Pet Care Veterinary Hospital. She has been working here at Animal Hospital of Sebastopol since 2012 and enjoys the interactions with people and animals (both old and new!) that she gets here. She and her husband are kept busy at home with 2 small children and 2 cats, and look forward to a time (hopefully soon!) when they can add a dog to the mix!
Giulianna Chierici, BVM&S
Veterinarian – Team Member since July 2018
Dr. Giulianna Chierici is a Sonoma County native, having grown up in Santa Rosa. After obtaining her undergraduate degree from San Francisco State University, she pursued her life-long dream of being a Vet and moved to Edinburgh, Scotland to attend the Royal (Dick) School of Veterinary Studies. She has special interests in surgery and exotic animal medicine. In her free time, Dr. Giulianna loves to be active by doing yoga, hiking, and going to the gym. She also loves to cook and bake for her friends and family. She currently has a cat named Loki, but can't wait to add a dog (and maybe a lizard!) to the group.
Dr. Jill Hoffman, DVM
Veterinarian – Team Member since July 2015
Dr. Jill Hoffman grew up on a koi farm in Fremont, CA next door to Fremont Animal Hospital. She and her sister spent their childhood swimming in the koi ponds and catching feral cats to be neutered next door. She completed her undergraduate degree at Humboldt State University and fell in love with the North Coast. After graduating Magna Cum Laude from veterinary school at UC Davis in 2002, she practiced as a small animal vet for 11 years in San Jose before she and her husband fulfilled a dream by moving to Sebastopol. Dr. Jill especially enjoys being a part of the human-animal bond and sharing that bond with her clients and patients through all life stages. She shares her home with three big dogs, three chickens, and her husband. Outside of work she enjoys reading with dogs on her lap, traveling with her husband, and taking the dogs to the river and beach for adventures.
Meet our Veterinary Care Team
Ashley Wilson
Veterinary Technician – Team Member since 2020
Ashley grew up in Cotati and has wanted to work with animals as long as she can remember. She moved to LA in 2015 where she lived for 5 years and began her career in veterinary medicine working at a hospital in Malibu. She has a golden retriever named Gander (pictured) who is her whole world. She enjoys camping, playing soccer, and of course caring for any and all animals with a passion. She is currently in school working toward her RVT and considering becoming a veterinarian someday!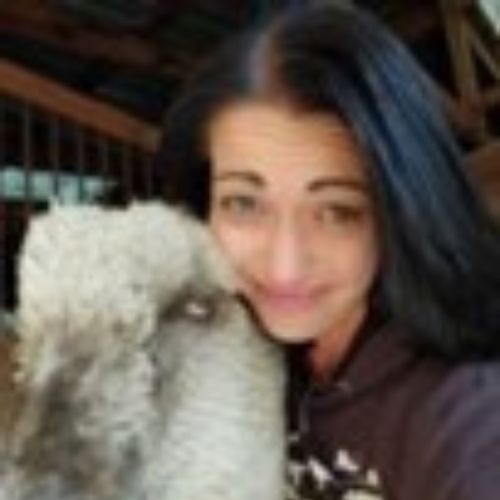 Brenda Rynders
Veterinary Assistant – Team Member since September 2021
Bio coming soon.
Tanya Reyes
Veterinary Assistant – Team Member since July 2021
 Bio coming soon.